Miss Grit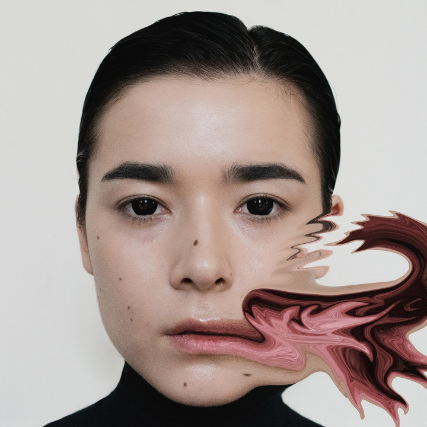 "For the way out, I think, we have to follow the cyborg. We have to be willing to be disloyal, to undermine. The cyborg is powerful because she grasps the potential in her own artificiality, because she accepts without question how deeply it is embedded in her." -- Jia Tolentino (Trick Mirror: Reflections on Self-Delusion, "Athleisure, barre and kale: the tyranny of the ideal woman")

To be a cyborg means to have been manufactured; to have been downloaded with information, characteristics, and abilities meant to carry out a function which will serve its creator. It is to have stepped into the world with very little control under an all-powerful hand. Miss Grit knows that to be a cyborg also means to have potential beyond your creator; to inevitably grow a hand even more powerful.

New York-based musician Margaret Sohn (they/she) created Miss Grit to function as an outlet for their own analysis and expression of self. Called a "polymath" by NME in early 2019, their process is introspective, their vision precise. Sohn produced Follow The Cyborg, her debut fulllength album, entirely in her home studio, and mostly in solitude with several guest collaborators joining -- Stella Mozgawa of Warpaint, Aron Kobayashi Ritch of Momma, and close friend and fellow songwriter Pearla.

Miss Grit has released two acclaimed EPs over the past three years, Talk, Talk (2019), about the complexities of relationships, and Impostor (2021) about their grappling with identity. On Follow The Cyborg, Sohn pursues the path of a non-human machine, as it moves from its helpless origin to awareness and liberation. "I'll be all I've consumed," Miss Grit sings on the album's opener. A nod to Satoshi Kon's Perfect Blue, the track sets the tone for an album that is rich with ideas, ambition, complex layering and a seamless ability to glide between countless genres. On 'Perfect Blue,' Miss Grit is not claiming to be a victim of such consumption; but one with the ability to take it all in stride, to use it as a map of knowledge, equipping them to spit in the face of their oppressor. The album is a communication from the cyborg to its human; at times gentle and sparse, at times volatile and explosive. Occupying a sonic world of chaotic electronic experimentation and stirring electric guitars, our cyborg moves at first timidly, and then at full force towards its own actualization.

Miss Grit subtly and overtly refers to films throughout the album (including Her, Ex Machina, and Ghost in the Shell) in their exploration of the life of a cyborg, as well as essays by Jia Tolentino and Donna Horroway's A Cyborg Manifesto (1985). Their impetus to conceive an album about the life of a cyborg stems from their own connection to this way of existing. As a mixed-race, non-binary artist, they have always rejected the limits of identity that are thrust upon them by the outside world, in favor of embracing a more fluid and complex understanding of the self. Miss Grit as an artist is like a cyborg themselves, intent on creating a way of being that is fully and completely their own.

On 'Lain (phone clone),' a track that manages to seamlessly balance vast pop elements, cinematic atmospherics and textures with audacious blasts of squealing guitar that make the song unpredictable in its journey, Miss Grit is inspired by the anime 'Serial Experiments Lain' (Yasuyuki Ueda), a story about a girl who becomes entranced with the online world. They sing, "I don't want to see everything anymore," perhaps one of the most relatable moments of the album. Immediately we recognize the overwhelm; that which comes from the mini-cyborg we keep in our pockets and by our bedsides. The rush of information we receive daily from our phones causes all of us to recoil, though we continue to drink its sweet nectar as if our lives depended on it. The album also features the title track performed in English as well as in Korean ('사이보그를 따라와'), Miss Grit's second language-in-progress. This moment represents their reclaiming of both cultural identities; neither of which feel exactly like home without the other intertwined.

A cyborg must be aware of the self to a higher extent than their human counterparts. They must detect what has been implemented inside of them and what has truly come about on their own accord. What of themselves was forced upon them by the outside world, and what was there to begin with? Which voices are leading to self-sabotage and which are leading towards liberation? Miss Grit has wondered the same, and poses a potential answer with this album: there may not be a difference. On 'Like You' -- which opens out from pulsing electronics to a pleasingly bouncy electro-rock skip, with blasts of snaking guitar, as well as a bass that throttles and rattles with a palpable hum, merging wonderfully with the jolting blasts of synth -- Sohn sings, "Bore new, everything is see-through. Confused, they might see they're like you." Perhaps what we've sprung and what has been sprung upon us is all equally us; it should all be held in its multiplicity, so we can catch a glimpse of the bigger picture of ourselves, and see just how it relates to the many 'selves' surrounding us.

Throughout the album, we hear our cyborg reaching for bits of humanity; from its human's eyes and hands, to their voice and their clothes. In album closer, the heartbreaking 'Syncing' -- a fitting end to an album that is filled with moments of tenderness, and production that allows the rich textures at play to glisten -- Miss Grit sings about the departure of the cyborg, as it leaves its human behind. "I've never felt my own toes holding me entirely," they sing. At this moment, our robot suddenly feels human, reaching for a sense of physicality, a body to stand beneath it that feels like its own. It brings upon us the idea that maybe our wants are not far off from the wants of a cyborg. To feel whole inside of our bodies; to feel ourselves moving freely and fluidly through the world without being splintered by its expectations of us.