Ab-Soul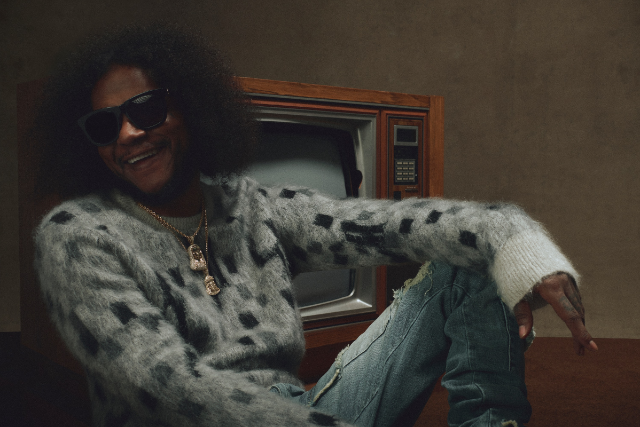 One of the most respected and skilled wordsmiths of his time, Ab-Soul (do not forget the dash) has been unwavering in his delivery of intricate bars and personified mystique to the rap game for over twenty years. Top Dawg Entertainment's legendary lyricist has developed a cult following from his projects like the critically-acclaimed "Control System"(2012), the
billboard-charting "These Days..." (2014), and broke through into commercial success with his most recent release "Herbert" (2022). Known for his unmatched narrative, wordplay and double-entendres, Ab-Soul has created a lasting legacy within the conscious rap game and continues to inspire those after him.

Ab-Soul, born Herbert Anthony Stevens IV, is a Carson, CA native. Growing up, his family owned the iconic "Magic Disc" record shop in Carson, exposing Soul to music at an early age. Always encouraged to explore his musical and performing talents, Soul was predestined for greatness. At the age of eleven, Soul was abruptly diagnosed with Stevens-Johnson syndrome. This hospitalized him for months and caused young Soul to lose much of his vision, impairing him with an extreme sensitivity to light which ultimately led to his iconic sunglass style. This condition never held Soul back from continuing to pursue his dreams, and eventually the buzz around Carson reached Anthony "Top Dawg" Tiffith. Soul began recording in Top's Carson, CA home studio and a year later, joined the Top Dawg Entertainment crew in 2006. Soul shopped his mixtapes around, including his "Longterm" mixtape in 2009 and collaborated with his fellow Black Hippy members ScHoolboy Q, Kendrick Lamar, and Jay Rock on multiple projects. In the midst of Black Hippy's growing popularity, Soul released his debut album in 2011 "Longterm Mentality", which quickly became an underground classic, showcasing Soul's gifted lyrical
abilities to the world. Soul's own fan base began to grow and shortly after his first studio album, he released his second titled "Control System" in 2012. This project further expanded and deepened his cult following, and received critical acclaim.

Flash forward to 2014 and Ab-Soul's reputation as a gifted wordsmith is propelled even farther forward with his third studio album "These Days..." debuting at number 11 on the Billboard Hot 200 charts. While gearing up for his fourth studio album, Soul collaborated with artists like Bas and Da$h to drop a couple singles eventually leading to his full length release "Do What Thou Wilt" with features from ScHoolboy Q, Isaiah Rashad, Mac Miller, Da$h and Thundercat.

After a six year hiatus, Soul began dropping singles like "Hollandaise", "Moonshooter", "Do Better (feat. Zacari) and "Gang'Nem (feat. Fre$h)" in 2022 as a warm up to his long-anticipated fifth studio album "Herbert". This eighteen track project is his most personal body of work, speaking on topics ranging from drug abuse, suicide, love, and growing up vision-impaired in Carson, CA. This project also boasts a prestigious feature list including Joey Bada$$, Big Sean, Russ, Jhene Aiko, Lance Skiiiwalker, Zacari, SiR, Punch, Alameda, and Ambré. Today, Ab-Soul continues to remind the world of hip-hop that he is truly the long lost lyricist and that there are still many stories left untold.
Social Links