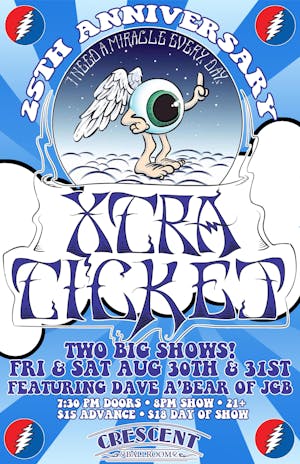 Celebrating 25 Years of Grateful Dead Glory!
XTRA TICKET [25th Anniversary Celebration - Night 2!]
NIGHT 2 OF FUN!!!

7:30 PM DOORS • 8PM SHOW • 21+

$15 ADVANCE • $18 DAY OF SHOW
Celebrating the music of The Grateful Dead and The Jerry Garcia Band for 25 YEARS!! Nothing left to do but smile, smile, smile!!
Xtra Ticket, Arizona's premier Grateful Dead tribute was formed in the summer of 1994 by Evan Jones (Groovy Truth) and Don Young (No Hobo Band) and quickly gained a loyal following. Ticket successfully uses the same sonic template as the Dead, complete with two drummers, keyboards, a "Phil", "Bobby" and "Jerry" which proves an effective way to help recreate the magic of a live Grateful Dead performance.