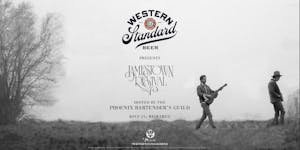 Presented by Western Standard Beer & The USBG-PHX
Jamestown Revival
8PM DOORS | 9PM SHOW | 21+ | FREE

REGISTRATION IS REQUIRED!

Click FREE above to Register!
Western Standard is not your average beer – but a saloon-style lager that reflects Western Standard's passion for the brewing history of the west. Inspired by beer served in pre-prohibition saloons, Western Standard is a modern beer with roots in a historical style. It's an easy-drinking saloon-style lager blended with beer aged in High West bourbon barrels. It's the perfect everyday lager for those seeking a premium, complex and more interesting beer. For more information, please visit https://westernstandardbeer.com/.
- - - - - - - - - - - - - - - - - - - - - - - - - - - - - - - - - -
Since their debut in 2014, Jamestown Revival has been building an extensive fan base through grassroots support and relentless touring, performing at iconic venues from the Ryman Auditorium to Red Rocks Amphitheater as well as festivals such as Coachella, Austin City Limits and Stagecoach among countless others. Led by Jonathan Clay and Zach Chance – who have maintained a close friendship since meeting at age 15 in Magnolia, TX – Jamestown Revival is pursuing their own musical vision by focusing on their roots and harmonies. Most of the time, Clay takes lead vocal with Chance on high harmony, a striking blend that appears effortless. This obvious camaraderie is a big part of the group's appeal.