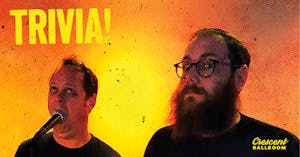 Longest Running & Brainiest Trivia Night in DTPHX
TRIVIA NIGHT! FOOD & DRINK SPECIALS
FREE IN THE LOUNGE • 6PM START
It's TRIVIA NIGHT at Crescent Ballroom!
Every Sunday from 6pm to 8pm in the Lounge sponsored by Odell Brewing...
Try your luck at trivia for great prizes -- such as free tickets to AMAZING Stateside shows, bacon, and gift cards to Crescent Ballroom or Stinkweeds Records! Don't let COMPTON stump you with his mind tricks while DJ HEIMBUCK hosts and plays jams in between rounds.
$1 Off Odell Cans - $2 Chips and Salsa - $3 Bean Burrito - $8 Nachos