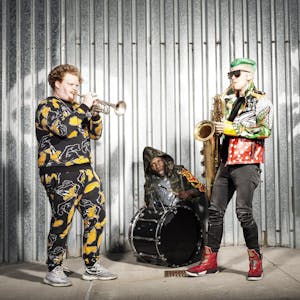 Too Many Zooz
Thumpasaurus
Doors 7pm | Show 8pm | 16+ | Advance $20 | DOS $23
TOO MANY ZOOZ
Website | Facebook | Twitter | Instagram | Youtube | Soundcloud
The curious thing about being a fan of brasshouse? You're pretty much talking about being into one solitary but extremely unforgettable band: the amusingly monikered Too Many Zooz.
The musical style was "branded" by drummer King of Sludge, who recognized that there was no worthy existing classification for the New York trio, whose other two members are the equally unclassifiable Leo P (saxophone) and Matt Doe (trumpet).
"Brasshouse is a high energy musical conversation," Matt insists. "Though I honestly don't think there is a good way to describe it in words. It's about many different feelings and sounds and emotions."
Or as KOS so decisively puts it, "I don't really care about what's happening in music -- I just make art that I enjoy making."
It's exactly this indifference to convention and trend that has garnered Too Many Zooz a fanbase that KOS describes as "wide-ranging and fanatical." One of those fans? In 2016, Beyonce asked them to perform with her at the Billboard Music Awards...and it's quite possible they got just as much attention as did she.
After two years, a gazillion live performances and four EPs, their debut album Subway Gawdz (an unsubtle reference to their birth in the underground stations of NYC), was released to enthusiastic acclaim in 2016. Its sound was truly like nothing else, with inescapable grooves that take in dub, soul, funk and ska, utterly exhilarating horn blasts that shoot right up your spine, and, of course, equal doses of fun and attitude.
And right now, TMZ are riding higher than ever, surely poised for the leap into genuinely widespread international recognition that was likley inevitable since they first set foot in an NYC subway station. Indeed, following a deal with Ministry of Sound, their single "Warriors" racked up major play on Radio One (if you think you haven't heard it, when you hear it, you'll quickly realize you already have), followed by high-profile remixes from the likes of Armand Van Helden and KDA.
Then, UK sensation Jess Glynne penned lyrics and added vocals to morph the song into "So Real (Warriors)," which has been generating massive buzz while climbing the European charts. In the meanwhile, a live video for "Car Alarm" has furtively racked up more than 500K views in one week.
But surely signaling their mainstream "arrival"? A Canadian KFC commercial featured the band and their songs -- so don't be surprised if listening to their music suddenly makes you hungry.
Though they've also been up to more serious matters. Leo, in fact, was asked to play at the BBC Proms Charles Mingus tribute at a sold-out Royal Albert Hall in August 2017 -- certainly no small honor.
Yet for all this, the forward plan for Too Many Zooz, is, as ever, constant touring. The reason is simple: it's their outrageous, electrifying live performances that consistently continue to add the numbers to their growing worldwide legion of fans. Autumn 2018 will take them coast to coast, from Seattle to Houston to Philadelphia, and across Europe, with stops in Krakow, Strasbourg and Marseille, amongst others.
"I don't think there's any recording that can do a live performance justice," reckons Matt. "You'll see people of all different colors, creeds, genders, ages, sexuality at our shows. I really can't find a constant between them...besides liking our music -- haha."
But for everything that's happened in the last couple of years, the trio aren't actually all that surprised by their success.
"I always knew we had something special," Leo enthuses. "Thousands of people everyday loved our music...and I knew it would just continue to spread."
- - - - - -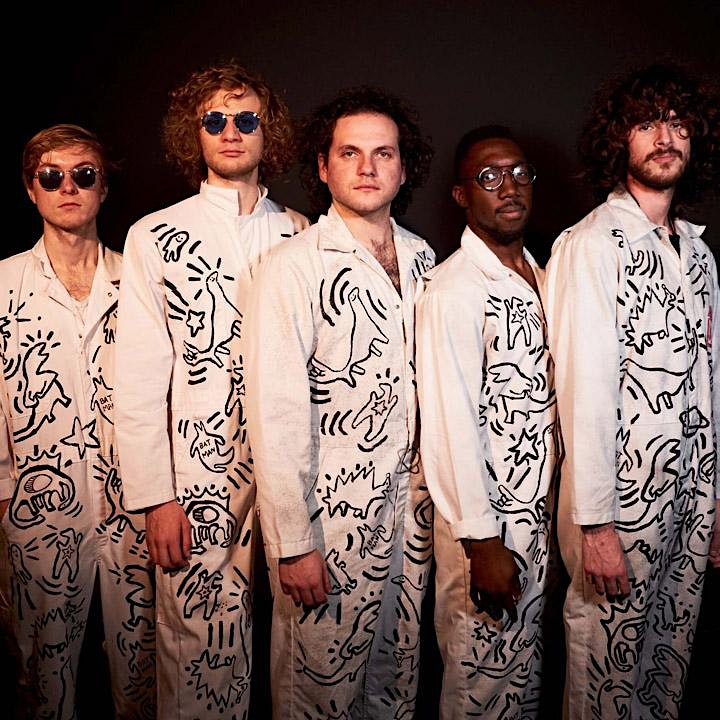 THUMPASAURUS
Los Angeles-based Thumpasaurus are a gang of five superbly-skilled young American musicians taking hugely divergent influences and channelling them into something uniquely Thumpasaurian.
These music and film students from the University of Southern California have honed their unique take on a multifarious swathe of musical inspirations through numerous live appearances on L.A's insane house party circuit.
Thumpasurus offer up their own unique punk/funk stew wherein, hidden in plain sight and sound, you'll find traces of Zappa, Beefheart, James Chance, Funkadelic/Parliament, Morphine, Devo, Talking Heads and Prince, as well as some rocking heavy metal, free jazz, musical theatre and even some light opera references thrown in for good measure.
So far, 2018 has seen the band release an EP with legendary house producer Justin Jay. Consisting primarily of remixed Thump songs, the EP is out on Jay's Fantastic Voyage label and has already been played in by massive DJ's in the house and techno scene across the country, including in a EatsEverything's headlinging set at Ultra Festival in Miami. Thumpasaurus also debuted a live dance music opera at their first ever headlining show in Los Angeles, and released their debut album in a sold out headlining show at the Troubadour. Directly following this release, Thump caught a plane to Edinburgh where they played up to three shows a day at the Edinburgh Fringe Festival, using their few days off to steal away and play some quick but effective shows in London.
Think. Dance. Smile. Feel. Thumpasuarus are about to come into your life and make you do all of the above.
Go see, go hear -- you'll never feel more alive. Long may you Thump.
- - - - -
4 TICKET LIMIT PER CUSTOMER. YOUR NAME, CREDIT CARD, ADDRESS, AND EMAIL ADDRESS WILL BE VERIFIED. EVENTBRITE AND STATESIDE PRESENTS/CRESCENT BALLROOM RESERVE THE RIGHT TO CANCEL ANY ORDERS IN EXCESS OF THE STATED TICKET LIMIT.
ANY TICKETS SUSPECTED OF BEING PURCHASED FOR THE SOLE PURPOSE OF RESELLING CAN BE CANCELLED AT THE DISCRETION OF STATESIDE PRESENTS/CRESCENT BALLROOM/EVENTBRITE.
- - - - - -
Please note that if there is no PDF or Barcode attached to your confirmation email, tickets will not be available to download or in the app until 24-hours prior to show date.
Support acts are subject to change. No refunds.
The maximum number of tickets per purchase for each event is the maximum number permitted per customer purchase. Your name, credit card, address, and email address will be verified. Stateside Presents reserve the right to cancel any orders in excess of the stated ticket limit.
Ticket resale is strictly prohibited. Any tickets suspected of being purchased for the sole purpose of reselling can be cancelled at the discretion of Stateside Presents.