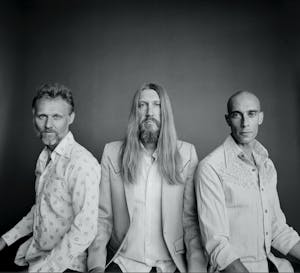 "Masters of Soulful Folk"
The Wood Brothers
Birds of Chicago
Doors 7pm | Show 8pm | 21+
$30 / $40 Advance | $33 / $43 Day of Show
The Wood Brothers have partnered with Thistle Farms so that $1 from every ticket sold will go towards helping women survivors recover and heal from trafficking, prostitution, and addiction. Thistle Farms is a nonprofit social enterprise based in Nashville, TN, providing a safe place to live, a meaningful job, and a lifelong sisterhood of support. For more info, visit https://thistlefarms.org/pages/our-mission
THE WOODS BROTHERS
Website | Facebook | Twitter | Instagram
The Wood Brothers didn't know they were making a record. Looking back, they're grateful for that.
"If we had known, we probably would have been too self-conscious to play what we played," reflects bassist/vocalist Chris Wood. "At the time, we just thought were jamming to break in our new studio, so we felt free to explore all these different ways of performing together without worrying about form or structure. It was liberating."
Recorded live to tape, those freewheeling, improvised sessions became a vast pool of source material from which The Wood Brothers would go on to draw 'Kingdom In My Mind,' their eighth studio release and most spontaneous and experimental collection yet. While on past records, the band—Chris, guitarist/vocalist Oliver Wood, and drummer/keyboardist Jano Rix—would write a large batch of songs and then record them all at once, 'Kingdom' found them retroactively carving tunes out of sprawling instrumental jam sessions like sculptors chipping away at blocks of marble. A testament to the limitless creativity of the unharnessed mind, the record explores the power of our external surroundings to shape our internal worlds (and vice versa), reckoning with time, mortality, and human nature. The songs here find strength in accepting what lies beyond our control, thoughtfully honing in on the bittersweet beauty that underlies doubt and pain and sadness with vivid character studies and unflinching self-examination. Deep as the lyrics dig, the arrangements always manage to remain buoyant and light, though, drawing from across a broad sonic spectrum to create a transportive, effervescent blend that reflects the trio's unique place in the modern musical landscape.
"My brother came to this band from the blues and gospel world, and my history was all over the map with jazz and R&B," says Chris, who first rose to fame with the pioneering trio Medeski Martin & Wood. "The idea for this group has always been to marry our backgrounds, to imagine what might happen if Robert Johnson and Charles Mingus had started a band together."
'Kingdom In My Mind' follows The Wood Brothers' most recent studio release, 2018's 'One Drop Of Truth,' which hit #1 on the Billboard Heatseekers Chart and garnered the band their first GRAMMY nomination for Best Americana Album. NPR praised the record's "unexpected changes and kaleidoscopic array of influences," while Uncut hailed its "virtuosic performances and subtly evocative lyrics," and Blurt proclaimed it "a career-defining album." Tracks from the record racked up roughly 8 million streams on Spotify alone, and the band took the album on the road for extensive tour dates in the US in Europe, including their first-ever headline performance at Red Rocks, two nights at San Francisco's legendary Fillmore (captured on their 2019 release, 'Live At The Fillmore'), and festival appearances everywhere from Bonnaroo to XPoNential.
- - - - -
BIRDS OF CHICAGO
Website | Facebook | Twitter | Instagram | Youtube
"Nero and Russell play folk-rock with impressionistic flourishes and gospel warmth, lent unexpected extravagance by Russell's singing…" —NPR
Following their incendiary set at Third Man Records, NPR Music named Birds of Chicago one of the Best of Americanafest 2018. The band continues to ride a swell of good mojo that they've enjoyed in the Americana world since their inception, with live shows that alternate between moments of hushed attention and wild, rock and soul abandon.
Birds of Chicago have been riding a swell of good mojo in the American world since their inception in late 2012. With their new album, Love in Wartime, they are set to both confirm that roots world buzz, and break on through to a wider audience across the world.
Recorded in Chicago against a backdrop of bewilderment, deep-divide and dread, Love in Wartime is a rock and roll suite with a cinematic sweep. Co-produced by Nero and Luther Dickinson (North Mississippi Allstars), it evokes epic efforts of the 60's and 70's, with love as the undeniable throughline. As Russell puts it, "Any act of love is an act of bravery. These songs are snapshots of covenants, big and small, of trust and understanding. We want to give people some good news, and we want them to be able to dance when they hear it."
When BOC released it's last album, the Joe Henry produced Real Midnight, in 2016, critics scrambled to find the right terminology to describe the deep lyricism, gut-punch singing and fevered musicality. . . "Secular gospel" Was one phrase that caught some traction. That fervor is evident in Love in Wartime as well: "Roll Away the heavy stone/roll away the heavy hours/roll on in the summer mon/who's alive who's alive who's alive?" The invitation is joyous, but urgant. . . call it "secular gospel," or call it what they used to call poetry intoned over roots music mash-ups: rock n roll. The Birds consider themselves a rock and roll band first and foremost, and Love in Wartime doesn't leave any doubt about that.
Built around the chemistry and fire between Allison Russell and JT Nero, the band has included a core band of empathetic assassins since it took to the road full time in 2013. Russell and Nero played with different bands in the mid-aughts (Po' Girl and JT and the Clouds) before finding their way to each other. Nero found himself a transcendent vocal muse in Russell (a powerful writer in her own right) and the band honed its chops on the road, playing 200 shows a year between 2013-17. All that shaping and sharpening, oer so many miles, led them back to Chicago's Electrical Audio in January of 2017, to begin recording. The first day in studio was inauguration day, and they didn't need any more motivation than that to do what they came to do.
The Birds attract a mix of indy rockers, NPRists, jam-kids and folkies to their gigs, which alternate between moments of hushed attention and wild, rock and soul abandon. Says JT Nero, chief songwriter for the band, "A good show can send you back out into the night feeling–for at least a little while–that everything isn't broken. . .Right now, we wanna dose out as much of that feeling as we can."
- - - - - -
4 TICKET LIMIT PER CUSTOMER. YOUR NAME, CREDIT CARD, ADDRESS, AND EMAIL ADDRESS WILL BE VERIFIED. EVENTBRITE AND STATESIDE PRESENTS/CRESCENT BALLROOM RESERVE THE RIGHT TO CANCEL ANY ORDERS IN EXCESS OF THE STATED TICKET LIMIT.
ANY TICKETS SUSPECTED OF BEING PURCHASED FOR THE SOLE PURPOSE OF RESELLING CAN BE CANCELLED AT THE DISCRETION OF STATESIDE PRESENTS/CRESCENT BALLROOM/EVENTBRITE.
- - - - -
Please note that if there is no PDF or Barcode attached to your confirmation email, tickets will not be available to download or in the app until 24-hours prior to show date.
Support acts are subject to change. No refunds.
The maximum number of tickets per purchase for each event is the maximum number permitted per customer purchase. Your name, credit card, address, and email address will be verified. Stateside Presents reserve the right to cancel any orders in excess of the stated ticket limit.
Ticket resale is strictly prohibited. Any tickets suspected of being purchased for the sole purpose of reselling can be cancelled at the discretion of Stateside Presents.