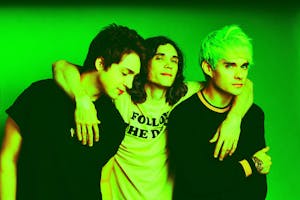 Waterparks
De'Wayne Jackson, Kitten
Doors 6pm | Show 7pm | 16+
Advance $25 | Day of Show $28
WATERPARKS
Website | Facebook | Twitter | Instagram
You write a record, go on tour, endure a very public breakup, and pen more songs about what happened.
Sound familiar?
Well, this story sort of starts that way right before it makes a total 180-degree turn on a dime…
Rather than talk about "doing something different," Waterparks actually did. On the heels of landing their biggest chart and critical success to date on 2018's Entertainment, the Houston, TX three-piece—Awsten Knight [vocals, guitar], Otto Wood [drums], and Geoff Wigington [guitar]—commenced writing again before scrapping everything. They reconfigured the vision, recalibrated the entire approach, and reinvented themselves.
By doing so, the boys boldly break down walls between rock, pop, hip-hop, alternative, indie, electronic, and even R&B with hashtaggable hooks and a level of gleeful playlist-hopping mischief on their third full-length and Hopeless Records debut, FANDOM.
"Rather than do a bunch of bitter songs, we wanted to make something more exciting and adventurous," exclaims Awsten. "I don't really want to just sing about breakup shit from 2017 in 2020. I'm not a one-dimensional character who's all heartbreak-focused. I'm not the same person I was two years ago. We had a lot more to say from touring and life experience. There was a lot to reflect on. We talked about music culture and fandom culture, how those things affect me, where I am mentally, and even a little bit about those relationships. And a lot of the stuff that is more 'heartbreak' centered is coming from from a more confident place than a self-pitying view. That's why this is my favorite stuff we've done."
They put in quite a bit of work to reach this point. Not only did Entertainment dent the Billboard Top 200, but it also scored #5 on the Top Albums Chart, #7 on the Top Rock Albums Chart, #18 on the Top Digital Albums Chart, #25 on the Top Current Albums Chart, and #36 on the Physical Albums Chart. Standouts like "Blonde" and "Lucky People" mushroomed the group's total stream tally well past 100 million. Beyond packed headline dates, the band canvased multiple continents alongside ONE OK ROCK, All Time Low, Sleeping With Sirens, Good Charlotte, and more in addition to gracing the covers of Alternative Press, Kerrang!, and Rock Sound. Plus, they received "Breakthrough Artist" at the Alternative Press Music Awards and "Best International Newcomer" from Rock Sound.
As part of changing the process, they inked a deal with Hopeless Records and enlisted the talents of producer Zakk Cervini [Poppy, Yungblud, nothing, nowhere] for the first time. Huddling up in Los Angeles, Waterparks focused on assembling a cohesive vision across the board. Awsten personally shot and designed the album art and directed music videos, contributing to the overall cohesion.
"In the past, we recorded and did everything else pretty quickly," recalls Awsten. "FANDOM is the first time I made an album while living in Los Angeles. I got an apartment three minutes from the studio. It was a big plus. It's also the first time we switched producers. Zakk got in there and really mixed it up sonically. We took a summer off to plan, because the rollout is so fucking important to me. Back in the day, I'd be in the van, making mix edits, and rushing everything. We decided to do this right."
A trio of anthems—"Turbulent," "Watch What Happens Next," and "Dream Boy"—initially teased out FANDOM. Meanwhile, "[Reboot]" flips sad confessions a la "I never promised you your dream boy. I'm better as your chew toy" into off-kilter hip-hop buoyed by rapid-fire verses and a hypnotic hook. Expanding the sonic palette, he recorded the sound of stepping on seashells for the acoustic-driven diary entry "* *** ******* *** *** ** ****** * ****** ******…"
Elsewhere, "*** ******" channels "Gorillaz and White Stripes" in equal measure as "***** ***" emanates unfiltered and unmitigated pop ambition. "***** ** *****" pairs echoing percussion and seesawing guitars with vivid recollections like, "I used to save the words you said in the text that you would send when you were going to bed."
The last song completed for the record and final single, "**** *********," swings from jazz-y chords into autotuned transmissions over handclaps and an icy beat. As a whole, FANDOM ushers Waterparks into uncharted territory.
"I don't like talking about my emotions very much, but there were times I'd ended up fucking crying on stage last year," the singer admits. "I began going to therapy after the tour and learned about grief. It was hard to heal in this environment in front of everyone. When the band got bigger, we dealt with a lot of awkwardness from being on display every day and also in terms of dealing with our peers. Growing pains are hard enough, but there was a heavy presence around. It feels like someone is always waiting for you to slip up. Situations like that ended up being themes on the album. Since I had more to talk about, I put myself out there more."
It was worth it for him to do so as FANDOM tells a different story for Waterparks and popular music at large.
"I hope audiences experience the record with open minds," Awsten leaves off. "It would be easy to repeat ourselves. The older albums are a part of who we are. I want listeners to accept growth and the honest expression of where we're at now. This is Waterparks."
- - - - -
KITTEN
Website | Facebook | Twitter | Instagram | Youtube
KITTEN is an American band fronted by alien-girl vocalist Chloe Chaidez.
As just a teenager, Chloe wowed crowds and earned fans with her off-the-wall performances and earnest recordings.
After years of shuffling line-ups, the stars aligned and placed Chaidez in the company of Dave Stagno (vox, guitar), Max Tsiring (keys), Parker Silzer IV (guitar), and sibling rhythm section Blu and Rex DeTiger (bass and drums, respectively).
The KITTEN 2.0 reboot had a busy 2018, touring relentlessly and releasing the PINK CHAMPAGNE EP and various singles to unanimous praise from the likes Stereogum, Rolling Stone, Paper, and The Fader.
2019 saw Chaidez collaborating with Charli XCX on the Nasty Cherry project, as KITTEN immersed themselves in Los Angeles's rich alternative pop scene.
A new EP, Goodbye Honeymoon Phase, arrives this October, but you can stream the title track and lead single "Memphis" now!
- - - - -
4 TICKET LIMIT PER CUSTOMER. YOUR NAME, CREDIT CARD, ADDRESS, AND EMAIL ADDRESS WILL BE VERIFIED. EVENTBRITE AND STATESIDE PRESENTS/CRESCENT BALLROOM RESERVE THE RIGHT TO CANCEL ANY ORDERS IN EXCESS OF THE STATED TICKET LIMIT.
ANY TICKETS SUSPECTED OF BEING PURCHASED FOR THE SOLE PURPOSE OF RESELLING CAN BE CANCELLED AT THE DISCRETION OF STATESIDE PRESENTS/CRESCENT BALLROOM/EVENTBRITE.
- - - - - -
Please note that if there is no PDF or Barcode attached to your confirmation email, tickets will not be available to download or in the app until 24-hours prior to show date.
Support acts are subject to change. No refunds.
The maximum number of tickets per purchase for each event is the maximum number permitted per customer purchase. Your name, credit card, address, and email address will be verified. Stateside Presents reserve the right to cancel any orders in excess of the stated ticket limit.
Ticket resale is strictly prohibited. Any tickets suspected of being purchased for the sole purpose of reselling can be cancelled at the discretion of Stateside Presents.