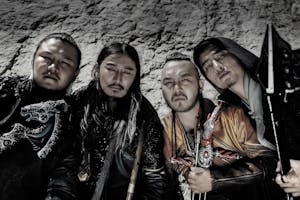 The Hu - The Gereg Tour
Doors 7pm | Show 8pm | 21+ | Advance $20 / $30 | DOS $22 / $32
THE HU
Website | Facebook | Twitter | Instagram | Youtube | Spotify
The HU is a band from Mongolia that blends heavy metal and traditional Mongolian throat singing. Their first two videos ("Yuve Yuve Yu" and "Wolf Totem") immediately went viral garnering the band over 18 million views. The explosive reaction to The HU resulted in a number of features about the band in international media such as NPR, ET India Times, Playboy Mexico, Jack Canal+Fr, Hong Kong 01, DW News Germany and others.
The band's name The HU, is the Mongolian root word for human being. They call their style "Hunnu Rock"…inspired by the Hunnu, an ancient Mongolian empire, known as The Huns in western culture. Some of the band's lyrics include old Mongolian war cries and poetry.
Founded in 2016 in Ulaanbaatar, Mongolia by their producer Dashka, along with the members Gala, Jaya, Temka, and Enkush. The HU combines Rock Music with traditional Mongolian instrumentation like the Morin Khuur (horsehead fiddle), Tovshuur (Mongolian guitar), Tumur Khuur (jaw harp), guttural throating singing and the bombastic bass and drums of rock. All four members have earned Bachelor's or higher degrees in music and have several years of touring experience throughout Asia and the Pacific Rim.
Since the formation of the band, they've been working on their first album, The Gereg. The word Gereg was used as the first Diplomatic "Passport" by the Mongol empire during the time of Genghis Khan. The album contains nine songs including the recently released "Yuve Yuve Yu" and "Wolf Totem", and is slated for release in 2019 on Eleven Seven Music.
Gala / Lead Throat Singer and Morin Khuur
Enkush / Lead Morin Khuur and Throat Singer
Jaya / Jaw Harp, Tsuur, Flute, and Throat Singer
Temka / Tovshuur
- - - -
4 TICKET LIMIT PER CUSTOMER. YOUR NAME, CREDIT CARD, ADDRESS, AND EMAIL ADDRESS WILL BE VERIFIED. EVENTBRITE AND STATESIDE PRESENTS/CRESCENT BALLROOM RESERVE THE RIGHT TO CANCEL ANY ORDERS IN EXCESS OF THE STATED TICKET LIMIT.
ANY TICKETS SUSPECTED OF BEING PURCHASED FOR THE SOLE PURPOSE OF RESELLING CAN BE CANCELLED AT THE DISCRETION OF STATESIDE PRESENTS/CRESCENT BALLROOM/EVENTBRITE.
- - - -
Please note that if there is no PDF or Barcode attached to your confirmation email, tickets will not be available to download or in the app until 24-hours prior to show date.
Support acts are subject to change. No refunds.
The maximum number of tickets per purchase for each event is the maximum number permitted per customer purchase. Your name, credit card, address, and email address will be verified. Stateside Presents reserve the right to cancel any orders in excess of the stated ticket limit.
Ticket resale is strictly prohibited. Any tickets suspected of being purchased for the sole purpose of reselling can be cancelled at the discretion of Stateside Presents.