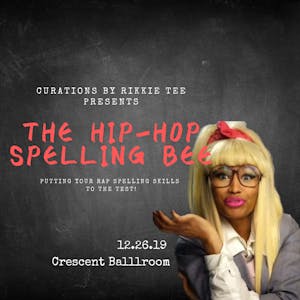 putting your rap spelling skills to the test
THE HIP HOP SPELLING BEE Hosted by RIKKIE TEE + Music by DJ VEX
DOORS + MUSIC 8PM | FREE IN THE LOUNGE
It's your elementary spelling bee contest, with a HIP HOP twist!
Join us for a round robin elimination game consisting of (3) rounds... First Round is standard hip hop + music industry terms. Second Round is names of artists. Third round features hip hop slang commonly used by both new and old school. If we need a tie breaker, the Final Round will be spelling along with using the word in a rap lyric -- either one of your own, or an artists line.
This is a true test of your street knowledge, so don't bring no busted mess up in this place!