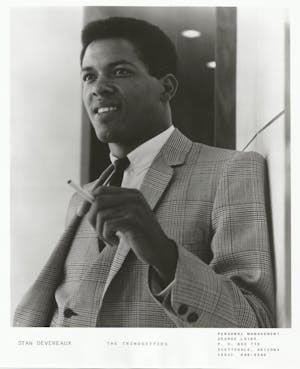 Legendary PHX Soul Singer
STAN DEVEREAUX "STARS OF THE SOUTHWEST" Official Record Release Party!
5PM MUSIC • FREE IN THE LOUNGE!
Come down and hear the collection of songs for the first time ever with guest host and musical direction DJ Johnny D!
'Stars of the Southwest' is a collection of six songs by Stan Devereaux & the Trendsetters and The Eclectic Mouse. Having made a name for himself in the Chitlin Circuit, Stan laid down six tracks between 1967-1969 for Capital Records. Unfortunately due to poor management, drugs, and the draft lottery, the deal with Capital fell through. Two of the tracks - "Sad Tomorrows" and "Know That It's Happenin'" - would go on to be released as a "Race Record" on Sujay / Northern Soul. "Merry Go Round" & "All Over Now"(which Stan decided to record after The Trendsetters replaced Gary Puckett & The Union Gap for an eleven-week residency at the Quad Room in San Diego) were shelved, never to see the light of day. As well as "Conjure Woman" and "This Diamond Ring" which were recorded with The Eclectic Mouse (nickname of master percussionist Steve Forman, who released one LP and a supporting 45 on Capital Records in 1969.)
Fifty years later, award winning Arizona label, President Gator, has decided to release this collection for the first time ever on a limited edition 10" record complete with original press photos from late 60's.