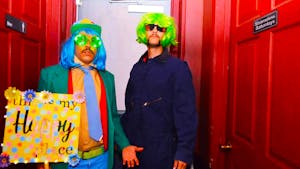 Tech House + Bass House + '70s - '00s Pop Remixes
SHAMELESS SATURDAYS feat. CHKLZ
11PM DOORS + MUSIC | FREE IN THE LOUNGE | 21+
Welcome to SHAMELESS SATURDAYS feat. CHKLZ! Your new Saturday night turn-up has arrived... Long-time Phoenix creators Henri & Marsh have concocted a most-hype electro-throw-down that will keep the party churning with sweet rewards ALL NIGHT! This is EDM in it's truest nature... an all-inclusive set performed and Dj'd to represent all points of dance and electronic music from HOUSE to TECHNO to FOOTWORK to POP to DUBSTEP +++
CURRENTLY PLAYING: Blossom, Noizu, Golf Clap, Dillon Francis, Chris Lake, Dombresky, Anti-Up, Donna Dolla, Wax Motif, Fisher, Kendoll, Tchami, Malaa, Born Dirty, Volac, Matroda, Walker, Royce, Shiba San,Bijou, Dr. Fresch, Gerry Gonza, WASH, Ekonovah!!!!!
____________________________________________
CHKLZ was born in the summer of 2017, founded on the premise that we had music they want to share with everyone! Coming in as the rhythm section of Okilly Dokilly, a successful kitsch punk band that currently has national and international hype, they have been able to see different platforms for all kinds of music. With that perspective, they were able to see and provide what is lacking in the EDM scene, and with that CHKLZ became more than just an idea. With diverse musical backgrounds, sweet fruits of creation, they just have fun and make music for everyone to enjoy! Everyone is welcome, music doesn't discriminate!