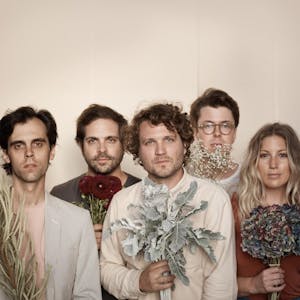 Ra Ra Riot
Bayonne, Bogan Via
Doors 7pm | Show 8pm | 16+ | Advance $18 / $28 | DOS $20 / $30
RA RA RIOT
Website | Facebook | Twitter | Instagram | Youtube | Spotify
Ra Ra Riot – Wes Miles (vocals), Mathieu Santos (bass), Milo Bonacci (guitar), Rebecca Zeller (violinist), Kenny Bernard(drummer) – introduced its unique brand of indie pop to the world in 2006 and got off to a fast start. After signing to Barsuk, the band released four critically acclaimed records over the next 10 years including 2016's ​Need Your Light​,which earned praise from NPR, Pitchfork, Entertainment Weekly, Stereo gum and more. That album spawned the band's biggest hit to date, "Water," a collaboration with longtime creative partner Rostam Batmanglij, which has streamed more than 75 million times globally. On August 9, 2019 the band returned with ​Superbloom​, an impossibly radiant album, a selection of songs powered by the most imaginative yet indelible melodies they've ever dreamed up. At the same time, the band maintains the offbeat eclecticism they've embraced since first forming as a baroque- pop outfit back in the mid-2000s, embedding ​Superbloom​'s lavish arrangements with elements of psychedelia, new wave, punk, and country. Lead tracks, "Bad To Worse," "Flowers" and "Belladonna" have quickly become fan favorites.
Ra Ra Riot have continued to create some of the most fun live environments in indie rock, headlining worldwide and sharing tours with Jimmy Eat World, Third Eye Blind, Young The Giant, Death Cab For Cutie, The Postal Service, The Shins and others and impressing on festival stages including Coachella, Austin City Limits, Icelandic Airwaves Festival,Lollapalooza and more. They look forward to bringing ​Superbloom​ to life on stages around the world over the next year.
- - - - - -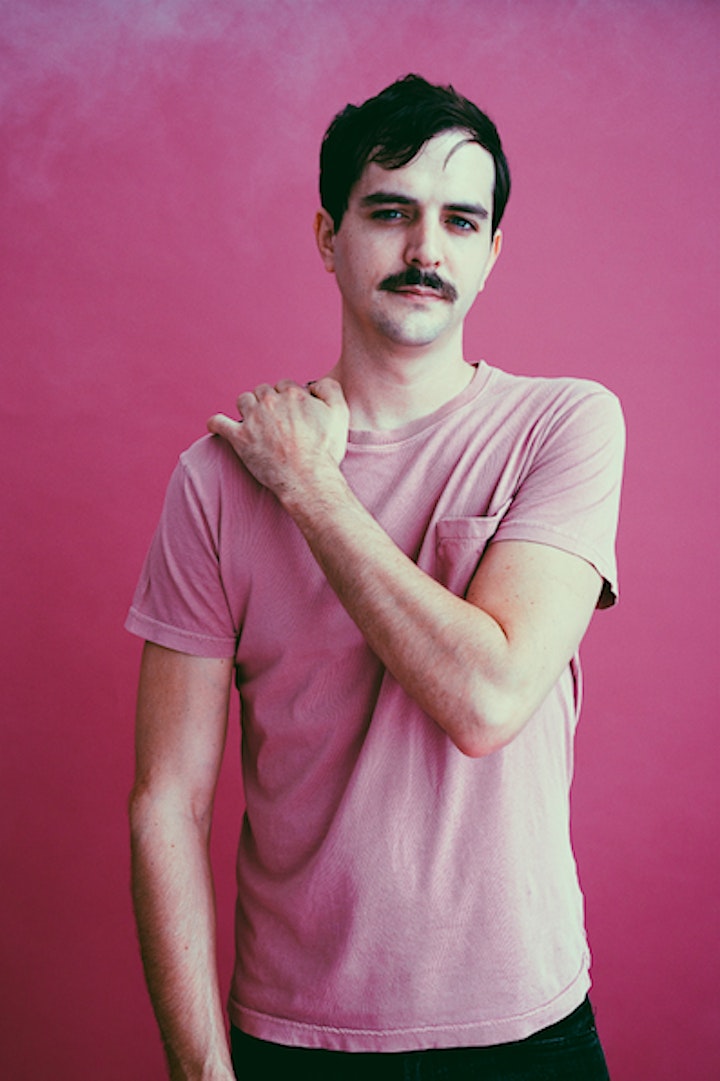 BAYONNE
Website | Facebook | Twitter | Instagram | Youtube | Soundcloud
Each song on Bayonne's Drastic Measures is orchestral in texture, unfolding in countless layers and kaleidoscopic tones. With great intensity of detail, the Austin-based artist otherwise known as Roger Sellers deepens that sonic complexity by weaving in elegantly warped samples of the field recordings he's gathered for over a decade. But in its powerful melodies and pristine arrangements, Drastic Measures ultimately bears a pure pop lucidity even in its most grandiose moments.
Driven by the dynamic percussion and luminous piano work signature to Bayonne's sound, Drastic Measures takes its title from a track that embodies the album's central theme: the instability inherent in an artist's life, and the often-futile attempt to attain balance. With its unrelenting urgency and heavy-hearted lyrics ("Common sense should tell me that the ones I've sinned against say goodbye"), "Drastic Measures" looks at the disorienting effects of constant touring. "After a while you kind of start to lose touch with home and your friends and your family," says Sellers. "You come back and feel like you've missed out on a lot, like you're stepping into a whole different life." And as the album offers up many a transcendent melody and anthemic chorus, Drastic Measures also reflects the volatility of moods within that way of life. "There can be so many highs and lows in such a small amount of time," says Sellers. "I remember my parents flying to one of my shows in Brooklyn and feeling incredibly grateful that I got to share it with them. Just weeks before that I was touring through Germany, feeling so isolated and lost. The ups and downs can be crazy if you don't actively try to manage them."
The crystalline production of Drastic Measures marks a departure from Primitives, Bayonne's entirely self-produced and more loosely structured full-length debut. In shaping the immaculately composed album, Sellers partly drew inspiration from the sublime melodicism of 1960s symphonic pop. "I spent a lot more time thinking about the little subtleties than I ever had before, and putting more thought into the meaning behind the songs and the best way to get that across," he says. "It felt like a natural progression for me—I wanted to make the music more accessible to people, including myself." Mixed by Beatriz Artola (Fleet Foxes, A$AP Rocky, Adele) and mastered by Josh Bonati (Mac DeMarco, !!!, Zola Jesus)—but fully produced and mostly tracked by Sellers himself—Drastic Measures also finds the multi-instrumentalist enlisting several close musician friends to instill the songs with a more kinetic energy.
As Drastic Measures muses on such matters as fractured relationships and the erosion of mental health, Bayonne builds a dizzying tension between the album's bright and dark elements. On "Uncertainly Deranged," skittering beats and shining piano tones clash with lyrics echoing the anxiety of self-doubt. One of the most delicate and simply adorned tracks on the album, "Same" spins a gentle reverie out of a moment of wistful longing. And on "I Know," bouncy rhythms and whistled melodies make a brilliant backdrop to Bayonne's meditation on overwhelming remorse. Further revealing the inventive instincts behind Bayonne's artistry, "I Know" opens with a fragment from his vast collection of field recordings. "It almost sounds like a ship, but it came from a recording of a street drummer playing on a bunch of paint cans," Sellers notes. Although his library is mostly made up of everyday sounds—birds chirping, people talking in restaurants, feet stomping through fallen leaves—Sellers typically distorts the recordings to give them a more surreal quality. On the sprawling instrumental centerpiece "Enders," for instance, he constructed a beautifully eerie sample by altering the creak of an oven door. "At first I was trying to get a sort of horror- movie sound effect out of it, but I ended up manipulating it so it sounds like a dolphin or a whale or some other kind of underwater creature," says Sellers.
Throughout the album, Sellers matches his bursts of experimentation with the graceful piano playing he's honed since he was a little kid. Halfway through high school, he started writing his own material, and self-recording with the help of his family's tape machine. By his early 20s he'd discovered minimalist composers like Steve Reich and Terry Reilly, which led him to infuse an atmospheric, ethereal quality into much of his work. And with the release of Primitives in spring 2016, Sellers adopted the moniker of Bayonne as a way to distinguish his more electronically crafted output from his other musical projects. "I'd been playing a lot of shows with a very folk-based set, so using a different name was a way to separate those two personalities," he explains.
In bringing Drastic Measures to life, Sellers merged his increasingly classic-pop-inspired sensibilities with a production approach closely focused on looping, layering, and overdubbing. "Even if you hear something simple like clapping or finger snaps, it's probably layered 10 or 20 times," he says. "I just like to stack and layer everything to get these big sounds, and create a really wide sonic space within the songs."
No matter how big those sounds become, Bayonne maintains a certain sense of intimacy throughout Drastic Measures—an effect that has much to do with his playful use of the field recordings he's captured since he was a teenager. "A lot of the time, I put them so far in the background that you might not even hear it," says Sellers. "But that's how I like it—I like having these little memories built up and then sticking them randomly in places all over the album. It's almost like having some kind of diary within the music, and it gives it so much more meaning when I go back and listen."
- - - - - -
4 TICKET LIMIT PER CUSTOMER. YOUR NAME, CREDIT CARD, ADDRESS, AND EMAIL ADDRESS WILL BE VERIFIED. EVENTBRITE AND STATESIDE PRESENTS/CRESCENT BALLROOM RESERVE THE RIGHT TO CANCEL ANY ORDERS IN EXCESS OF THE STATED TICKET LIMIT.
ANY TICKETS SUSPECTED OF BEING PURCHASED FOR THE SOLE PURPOSE OF RESELLING CAN BE CANCELLED AT THE DISCRETION OF STATESIDE PRESENTS/CRESCENT BALLROOM/EVENTBRITE.
- - - - -
Please note that if there is no PDF or Barcode attached to your confirmation email, tickets will not be available to download or in the app until 24-hours prior to show date.
Support acts are subject to change. No refunds.
The maximum number of tickets per purchase for each event is the maximum number permitted per customer purchase. Your name, credit card, address, and email address will be verified. Stateside Presents reserve the right to cancel any orders in excess of the stated ticket limit.
Ticket resale is strictly prohibited. Any tickets suspected of being purchased for the sole purpose of reselling can be cancelled at the discretion of Stateside Presents.