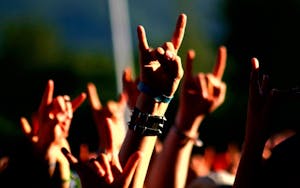 PHOENIX CONSERVATORY OF MUSIC [CD RELEASE PARTY!]
6PM DOORS | 7PM SHOW | 16+ // FREE IN THE BALLROOM
Come out and have a rockin' night with high octane music & fantastic networking, featuring high energy performances from the BLUES, ROCK, FUNK, and R&B Ensembles of PHOENIX CONSERVATORY OF MUSIC!
The annual CD RELEASE PARTY is a free event celebrating student achievement in songwriting, composition, recording, production and performance! Donations accepted at the event, come out and help us support these amazing young musicians and songwriters!!
About PCM:
PCM's mission is to unleash the power of music through high quality music education programs that are affordable and accessible!
Music enriches our daily lives. Can you live a day without music? PCM is dedicated to providing music education opportunities to undeserved individuals and communities in the greater Phoenix area by providing music classes to schools and community centers and private lessons at our offices.
For more informatin visit: http://www.pcmrocks.org