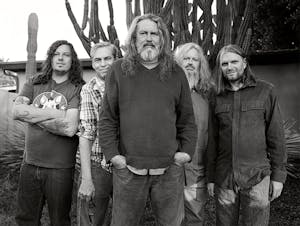 Meat Puppets
Doors 7:30pm | Show 8:30pm | 21+
MEAT PUPPETS
The Meat Puppets' story begins with idle time spent in the wide-open spaces of the Phoenix area during the early 1980s. Friendly high school acquaintances, Bostrom and Curt Kirkwood were in the dawn of their twenties, unemployed and "starting to hang out because we were the only guys home," the drummer recalled with a laugh. "Cris was going to school at the time, so we would lay around waiting for him to get out, and then he would join us as a trio. We began to make such a hellacious racket that we knew we were on to something."
The collective influences in play ran the gamut—classic rock, British prog, the Dead, Zappa, Beefheart, fusion, the jazz avant-garde and, of course, punk rock, which had enjoyed a tightknit but robust scene in Phoenix since the mid-to-late '70s. But the fascinating take on hardcore that can be heard on Meat Puppets, the band's 1982 SST debut, had more to do with punk rock's ethos of creative freedom (and Arizona's psychedelic history) than with any calculated musical strategy. "Curt was trying to play in straight bands and getting kicked out," Bostrom recalled. "I told him, 'No—in this day and age you can be anything you need to be, and this band is going to support your weirdness."
Throughout the '80s, the Meat Puppets found a crucial advocate in SST. Founded by Black Flag's Greg Ginn, the trailblazing indie label emboldened the trio to follow their whims from one artistically brazen record to the next, and spearheaded a national touring network that gave them hard-earned exposure. Still, the hardcore kids devoted to the likes of Flag didn't always take kindly to three longhairs whose punk was infused with Neil Young. "I got spit on so much," Curt said. "I would get spit in my open eyeball and come offstage with loogies dripping off the guitar. It was hideous."
But the band persevered, and by the late '80s a dependable legion of Meatheads had accrued. "It was the attrition of the naysayers going away," Curt recalled, "and not bothering to come and waste their money and waste our time." But the same nonstop cycle of touring and recording that allowed the band to gather their following was also threatening to burn it out. "We were trying to do this to make a living," Bostrom said, "so we were definitely interested in new opportunities."
Major labels had begun to pluck the best of what was then called college rock, but the Meat Puppets weren't the easiest sell. "We were not punk enough, and we were too punk," Bostrom said. Eventually a deal was struck with London, and the Meat Puppets' second album for the label, Too High to Die, became a gold record with a breakout single, "Backwater."
During the fall prior to that album's January '94 release, essential groundwork was laid. Nirvana, touring in support of In Utero, asked the band to open some shows in October. A couple of nights into the stint, Kurt Cobain told Kirkwood that Nirvana was taping an MTV Unplugged soon, and that he needed the brothers to guest at the performance in New York. "He said he couldn't play the guitar parts," Kirkwood said with a chuckle. And so "Lake of Fire" and "Plateau," two of Cobain's favorite tunes off of one of his favorite albums, Meat Puppets II, became staples of MTV when the network was still a taste-making behemoth. As Kirkwood saw it, his songs were being interpreted by a once-in-a-generation talent. "That's a special voice," he said. "That's like a George Jones voice, somebody that's immediately recognizable. A Neil Young voice." A quarter-century later, the Nirvana association continues to be a catalyst for fandom. "It's been the most constant vein that draws people in," Kirkwood said.
Despite such achievement, the Meat Puppets hit a wall not much later. No Joke!, the follow-up to Too High, was strong, but lightning didn't strike twice. The majors were quickly losing interest in the indie scene they'd been exploiting, Cris' drug use had become a dire problem, and Bostrom was at a crossroads. "I needed to get a life," he said. "I'd been on the road for 15 years." Post-Nirvana sales and royalties had given everyone some savings, so we could afford to part ways.
Kirkwood and Bostrom remained on good terms. A computer enthusiast who built a thriving career in information technology, Bostrom became the band's webmaster and oversaw their ambitious Rykodisc reissue campaign in 1999. By the time Kirkwood assembled a new Meat Puppets lineup for 2000's Golden Lies, Bostrom was happily settled into his work and family life. Cris, once again happy and healthy, and Curt reunited for 2007's Rise to Your Knees and three well-received subsequent albums. The Meat Puppets continued to grow and impress as a live act, though the set lists mostly acknowledged albums such as Meat Puppets II and Up on the Sun, which had long been recognized as landmarks of alternative music.
Meatheads should go ahead and add Dusty Notes to the canon, on record and onstage. "When we had it pretty much done," Curt Kirkwood recalled, "Derrick said, 'You know what people are gonna do after they listen to this? Listen to it again.'"
- - - - -
4 TICKET LIMIT PER CUSTOMER. YOUR NAME, CREDIT CARD, ADDRESS, AND EMAIL ADDRESS WILL BE VERIFIED. EVENTBRITE AND LUCKYMAN/CRESCENT BALLROOM RESERVE THE RIGHT TO CANCEL ANY ORDERS IN EXCESS OF THE STATED TICKET LIMIT.
ANY TICKETS SUSPECTED OF BEING PURCHASED FOR THE SOLE PURPOSE OF RESELLING CAN BE CANCELLED AT THE DISCRETION OF LUCKYMAN /CRESCENT BALLROOM/EVENTBRITE.
- - - - -
Please note that if there is no PDF or Barcode attached to your confirmation email, tickets will not be available to download or in the app until 24-hours prior to show date.
Support acts are subject to change. No refunds.
The maximum number of tickets per purchase for each event is the maximum number permitted per customer purchase. Your name, credit card, address, and email address will be verified. Stateside Presents reserve the right to cancel any orders in excess of the stated ticket limit.
Ticket resale is strictly prohibited. Any tickets suspected of being purchased for the sole purpose of reselling can be cancelled at the discretion of Stateside Presents.