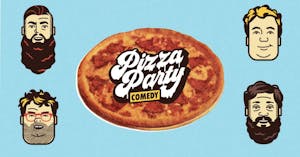 Presented by Pizza Party Comedy
LET'S MAKE A GAME SHOW!
DOORS + SHOW 9PM | 21+ | FREE IN THE LOUNGE
Let's Make a Game Show! is a free and interactive comedy game show produced by Pizza Party Comedy. Audience members will receive a chance to compete with us for the stupidest prizes imaginable in events such as Pong Jovi, ¡Holy Guacamole!, Alternate Reality Trivia, Guess Who? and much much more!

Comprised of Kyle Coughlin, Michael Kohn, Sam Lowy and Michael Margetis, four born and bred Arizona comedians who have been working together in several different projects for the past 10 years, Pizza Party has taken its brand of comedy all over the country, performing in festivals like San Francisco Sketch Fest, Del Close Marathon, Bird City and Big Pine, in world-famous theaters like Second City Hollywood and UCB New York.
Pizza Party Comedy has found its success not only because these boys love comedy (and each other), but because they're always striving to bring something completely unique to the stage—they're driven to get audience members to leave their shows thinking, "I didn't know you could do that."