Latin Folkloric + Flamenco + Neo-R&B + Fusion
LAS CHOLLAS PELIGROSAS
BARRIO MANOUCHE, THE MAYA SPECTRA
7PM DOORS | 8PM SHOW | 21+ || $10 ADVANCE
They're back!! Las Chollas return to the stage in 2020 bigger and better than ever, with fire burning bright. The ladies will be joined on this night by San Francisco's Barrio Manouche, making this an epic journey of feminine prowess and joyous songs!
- - - - - - - - - - - - - - -
LAS CHOLLAS PELIGROSAS
All-female Phoenix sextet Las Chollas Peligrosas draws upon multiple subgenres of traditional Latin music from Rancheras to Mariachi to Cumbia and everything in between, even hints of Old World Gypsy Folk.
Six-part multi-lingual vocals, accordion, violin, classical guitar, percussion and upright bass deliver a mix of classic standards and inspired original compositions.
Rich with supporting harmonies, all the ladies take the lead at one point or another in the show and much of the subject matter is catalytic, pointed and poignant in true folkloric fashion. In the spirit of their prickly namesake, Las Chollas Peligrosas speak to truth and empowerment in the name of human rights and cultural awareness.
Each member of Las Chollas Peligrosas have arrived from different musical journeys but share a love for this music and the power it has to unite the community and communicate the voice of the people for positive change.
- - - - - - - - - - - - - - -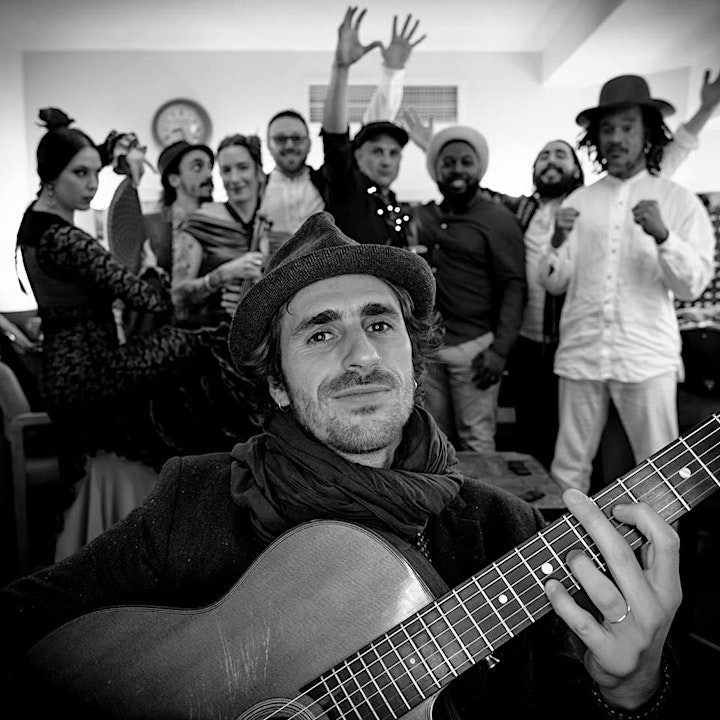 BARRIO MANOUCHE
Facebook | Instagram | Spotify
Barrio Manouche is an acoustic San Francisco-Based international colective (Spain, Quebec, France, Brasil and California), playing music that will take you on a magical journey, frequently joined by artist from all over the globe.
The ensemble has been recognized for its surprise concerts, innovative style, complex technique, and their passion for their musical improvisation.
The band performs a repertoire of original, mostly instrumental compositions with a unique sound that it's difficult to classify but instantly recognizable, deeply influenced by a range of musical traditions, from the swing of Louis Armstrong and Sidney Bechet, to the Hot Jazz of Django Reinhardt and Stéphane Grappelli, the Gypsy soul of Eastern Europe, the Nuevo Flamenco of Paco de Lucía and Camarón de la Isla to the Avant-Garde sounds of Miles Davis, Ornate Coleman and John Coltrane.