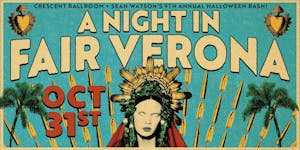 Crescent Ballroom + Sean Watson's 9th Annual Halloween Bash
HALLOWEEN IN FAIR VERONA: A Romeo & Juliet Masquerade Ball!
8PM DOORS + MUSIC | 21+ | $20 ADVANCE | $25 AT THE DOOR
We're excited to announce the 9th Annual Crescent Ballroom + Sean Watson Halloween Bash... Join us for HALLOWEEN IN FAIR VERONA: A Romeo & Juliet Masquerade Ball on October 31!
Two households, both alike in dignity, is where we lay our scene — The Capulet Mansion, where civil blood makes civil hands unclean on (2) stages of pure dance music mayhem to represent two families divided, feat. SEAN WATSON + GERRY GONZA + NICKY V + CURTIS CAN'T SEE + LAVANDER B2B FAIRYDVST in the Ballroom with visuals by GESTALT THEORY +++ FULL MOON FESTIVAL 2ND AVE TAKE-OVER feat. SECRET SESSIONS + KID RAGA + MORE! +++ Hosted by Mercutio & The Merry Queens of Verona!! From forth the fatal loins of these two foes, a pair of star crossed lovers make their life, for we've never seen true beauty 'til this night.
This is your invitation to a costume feast... As always, COSTUMES ARE REQUIRED FOR ENTRY, NO EXCEPTIONS! The Costume Contest includes Best Romeo + Best Juliet + More with such sweet prizes from Zia, Stinkweeds, Ocotillo, Cult Classics & Stateside Presents... and be sure to discover love at the Aquarium Photobooth + the installations on 2nd Avenue. O heavy lightness! Serious Vanity!
WHAT YOU CAN & CAN'T BRING...
Please Bring:
-- Costume (MANDATORY!)
-- Valid Photo ID
-- Cash
Please Do NOT Bring:
-- Outside Food or Drinks of any kind
-- Backpacks or large bags (larger than 12"x12")
-- Illegal drugs
-- Weapons
-- Costume weapons of any kind
-- Umbrellas
-- Sparklers / Fireworks
-- Professional photo or video equipment