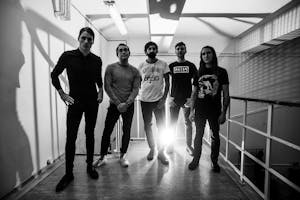 Deafheaven
Inter Arma, All Your Sisters
Doors 7pm | Show 8pm | 21+
$22 Advance | $25 Day of Show
DEAFHEAVEN
Website | Facebook | Twitter | Instagram | Myspace | Youtube
Deafheaven is a California-based act that has garnered acclaim for their signature hybrid sound of black metal, shoegaze, and post-rock. On October 2 the band will release their next album New Bermuda on ANTI-.
George Clarke (vocals), Kerry McCoy (guitar), Dan Tracy (drums), Stephen Lee Clark (bass), and Shiv Mehra (guitar) recorded New Bermuda live to tape at 25th Street Recording in Oakland, CA and Atomic Garden Recording in East Palo Alto, CA in April 2015. It was produced, engineered, mixed, and mastered by Jack Shirley who has worked with the band on their previous releases. Clarke says that he came up with the idea of "New Bermuda" to describe a new destination in life, a nebulous point of arrival, and an unknown future where things get swallowed up and dragged into darkness. The album artwork for New Bermuda is an oil painting, dense in brush strokes of darker tones and deep blues, by Allison Schulnik. The layout was designed by art director Nick Steinhardt.
Formed in 2010 in San Francisco, California, the band has released two studio albums on Deathwish; Roads to Judah in 2011 and their lauded Sunbather in 2013. Sunbather received accolades from NPR on their Favorite Albums of 2013 list, a coveted Best New Music at Pitchfork, the Best Metal Album of 2013 per Rolling Stone, a 9/10 star review from Decibel Magazine, and it was the highest rated album of 2013 according to Metacritic. Deafheaven have spent the last two years touring extensively nationally and around the world with shows in Australia, Japan, Asia, Europe, Russia, the UK, and Canada with festival appearances at Pitchfork, Bonnaroo, Primavera, Roskilde, Fun Fun Fun, FYF Fest, SXSW, Basilica Sound Scape 14, Corona Capital, ATP Iceland, amongst others. Deafheaven will perform August 8 at Heavy Montreal in Canada. Details on a forthcoming North American tour are soon to be announced.
- - - - - -
4 TICKET LIMIT PER CUSTOMER. YOUR NAME, CREDIT CARD, ADDRESS, AND EMAIL ADDRESS WILL BE VERIFIED. EVENTBRITE AND STATESIDE PRESENTS/CRESCENT BALLROOM RESERVE THE RIGHT TO CANCEL ANY ORDERS IN EXCESS OF THE STATED TICKET LIMIT.
ANY TICKETS SUSPECTED OF BEING PURCHASED FOR THE SOLE PURPOSE OF RESELLING CAN BE CANCELLED AT THE DISCRETION OF STATESIDE PRESENTS/CRESCENT BALLROOM/EVENTBRITE.
- - - - -
Please note that if there is no PDF or Barcode attached to your confirmation email, tickets will not be available to download or in the app until 24-hours prior to show date.
Support acts are subject to change. No refunds.
The maximum number of tickets per purchase for each event is the maximum number permitted per customer purchase. Your name, credit card, address, and email address will be verified. Stateside Presents reserve the right to cancel any orders in excess of the stated ticket limit.
Ticket resale is strictly prohibited. Any tickets suspected of being purchased for the sole purpose of reselling can be cancelled at the discretion of Stateside Presents.