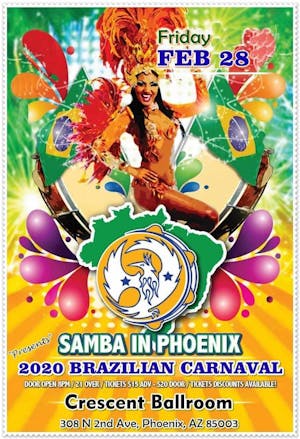 9th Annual Celebration of Brazillian Music + Culture
BRAZILIAN CARNAVAL : SAMBA IN PHOENIX!
DOORS + MUSIC 8PM | 21+ | $15 ADVANCE | $20 DAY OF SHOW
We welcome you to the 9th Annual Celebration of Carnaval in Phoenix! Come witness a collaboration of the finest representation of vibrant, colorful Brazillian music and culture right before your eyes as BANDA RADIO BR + WILLFROMBRAZIL + SAMBA AZ DANCERS transport you straight to the city streets of Rio de Janeiro, right in the middle of the action!
Costumes are highly recommended, traditional food will be offered, as well as plenty of Samba to keep your feet and hips busy all night long!
SambAZ Dancers - Phoenix AZ: Professional Samba dancers in exquisite Brazilian costumes with mesmerizing hip and footwork in intricate choreographed shows
Samba de Cavalo - Phoenix AZ: Soul-shaking authentic Brazilian Carnaval drums, featuring a parade outside - through the crowd and alongside the fabulous SambAZ dancers. - this will make you dance!
Banda Radio BR + The WillfromBrazil Band - Phoenix AZ: This big band is a collaboration from some of the top Brazilian and American talent in the region - featuring many guests and with a bespoke Carnaval 2020 set that is said to transport you directly to Rio!