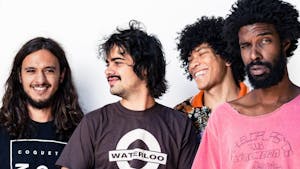 brazilian psychadellic rock
Boogarins
Doors 7pm | Show 8pm | 21+
BOOGARINS
Website | Facebook | Twitter | Instagram | Youtube | Soundcloud
Boogarins' Fernando "Dino" Almeida and Benke Ferraz began playing music together as teenagers in the central Brazilian city of Goiânia – creating psychedelic pop in their parents' gardens, filtering their country's rich musical history through a very modern lens. By the time the group's home-recorded debut LP, 'As Plantas Que Curam' (2013), was released worldwide, the band had recruited a proper rhythm section and were developing a name around Goiânia. Soon after, the group was booking regular gigs in São Paulo and across the country.
Sombrou Dúvida, the band's fourth full-length release, is a question. A play on words in Boogarins' native Brazilian Portuguese. It's a contraction of "Sombra ou Dúvida", the title track of the album, which translates as 'Shadow or Doubt'. There might seem to be a darkness to the question, given that both choices aren't exactly cheery. Yet, Dino, the smiling, Afro-donned singer of the group tells us that "shadow" refers to a feeling related to your comfort zone, whereas doubt is the uncertainty that hits people and leads them to follow their instincts."
Boogarins' own instincts led them to continue elaborating on the dark themes of 2017's surprise-drop Lá Vem a Morte (Here Comes Death) in a rented house in Texas. The quartet completed several additional tracks before relocating their efforts to a nearby recording studio for multiple sessions with engineer Tim Gerron and producer Gordon Zacharias over the ensuing 2 years, alongside several North American and European tours.
For fans of previous works by the band, Fernando Almeida's songwriting and soaring vocals guide Sombrou Dúvida in a way that's reminiscent of the Latin Grammy-nominated second album "Manual", which was a portrait of a live band exploring the professional recording studio for the first time. The new 10-song set builds on this premise while retaining many of the home-recorded electronic elements of Lá Vem a Morte.
The use of a large, tuned live room at Austin's Space Recording Studio allowed Boogarins to include the bold sound of their live performances — heavy rock guitar from Benke Ferraz (also in the producer role) colliding with experimental synth noise and bass undercurrents from Raphael Vaz, all driven by the incredibly dynamic and effulgent drummer Ynaiã Benthroldo.
"We didn't want to write songs telling people what to do, but instead help them find their own thing. So, there are more questions in the album than answers" Dino adds. In these days of uncertainty, perhaps there's some comfort to be found by remaining in the shadows.
- - - - -
WINTER
Winter is a dreamy indie rock band whose sound was conceived in Boston. Beginning as a collaborative effort between Samira Winter and Nolan Eley, their first recordings culminated into the 2012 EP entitled Daydreaming. Following the release, Samira's relocation to Los Angeles brought on the recruit of additional members Matt Hogan (guitar), Justine Brown (bass), and Garren Orr (drums) to create a band that would manifest her ultimate dreams.
The quartet released their first full-length album, Supreme Blue Dream, via Lolipop Records in 2015. The aptly titled album floats on with a youthful sense of nostalgia and romanticized segues into adulthood. Touching on not one, but two languages (English and Portuguese), this bi-lingual group of dreamers do their part to lay us down softly while keeping listeners eager for each tune. Winter aspires to connect others with their inner child by making blissful, beautiful and ethereal pop music.
- - - - -
James World is Michael Madrid, vocals/guitar; Nate Ray, drums; Harrison Ray, bass guitar; Connor Sanchez, synthesizer/vocals; and Kalebh Ryals, guitar. Previously, James World issued an EP back in 2016 under the name James Band.
Michael, Nate and Harrison met back in the early 2000s, in church where they grew up playing in youth groups and sharpening their collaborative abilities, and eventually met Kalebh and Connor down the road of life. James World thrives on frequent improvisation and real world trauma repurposed into loud, emotional outbursts and quiet, intimate moments.
The five-piece band's upcoming record Funny Dreams, evokes This Heat, and the Dismemberment Plan melded with the poetic vulnerability of Jeff Buckley. The 10-song album is an album-oriented experience, brimming with chiming alt-rock ballads, dense sound collage pieces, ambitiously immersive arrangements, and heart-pumping loud/soft dynamics.
Funny Dreams' first single will be "Dominos," an imaginatively arranged alt-rock opus that traverses densely detailed guitar interlace and quiet ethereal beauty. Beneath this gorgeously arranged instrumentation is a powerful treatise on emotionality. Michael explains: "When I watch people in line starring blankly at either their phones or the back of someone else's head, I sometimes wonder if they will all fall down if I tap them on the back. The song deals with the idea that not being vulnerable or caring amounts to just standing in line and not feeling anything. I want people to feel and experience love," Michael shares.
- - - -
6 TICKET LIMIT PER CUSTOMER. YOUR NAME, CREDIT CARD, ADDRESS, AND EMAIL ADDRESS WILL BE VERIFIED. EVENTBRITE AND STATESIDE PRESENTS/CRESCENT BALLROOM RESERVE THE RIGHT TO CANCEL ANY ORDERS IN EXCESS OF THE STATED TICKET LIMIT.
ANY TICKETS SUSPECTED OF BEING PURCHASED FOR THE SOLE PURPOSE OF RESELLING CAN BE CANCELLED AT THE DISCRETION OF STATESIDE PRESENTS/CRESCENT BALLROOM/EVENTBRITE.
- - - - -
Please note that if there is no PDF or Barcode attached to your confirmation email, tickets will not be available to download or in the app until 24-hours prior to show date.
Support acts are subject to change. No refunds.
The maximum number of tickets per purchase for each event is the maximum number permitted per customer purchase. Your name, credit card, address, and email address will be verified. Stateside Presents reserve the right to cancel any orders in excess of the stated ticket limit.
Ticket resale is strictly prohibited. Any tickets suspected of being purchased for the sole purpose of reselling can be cancelled at the discretion of Stateside Presents.