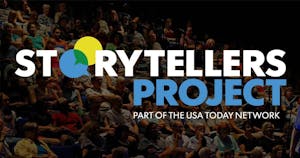 Arizona Storytellers: Adulting
$8.00 - $12.00
Sold Out
On AZ Central
6PM DOORS • 7PM SHOW • $12 GENERAL ADMISSION • $8 STUDENT TICKET
Growing up and adulting are two separate things. Join us for a night of stories about the funny, and sometimes poignant, stories of being an adult.
Become a subscriber: All Arizona Republic and azcentral subscribers receive a complimentary, gourmet brownie from Fairytale Brownies at check-in. Click here to learn about other great subscriber perks.
Accessibility Note: We are pleased to provide live open captioning for this event, sponsored by the State of Arizona, Commission for the Deaf and the Hard of Hearing and provided by Karla Martin. Nearly 1 out of 5 Arizonans have hearing loss and captioning ensures that everyone can enjoy the event.
If you require accommodations related to mobility or seating for this event or a future Storytellers event, please contact info@storytellersproject.com.
Thank you for joining us for Arizona Storytellers Project!
Here are additional details to make your storytellers experience spectacular:
-Tickets available are limited and offered on a first-come, first-served basis.
-Our nights typically sell out.
-A limited number of tickets may be offered for purchase at the door.
-We accept only credit cards.
-Event check-in starts at 6:00 p.m. Stories begin promptly at 7:00 p.m.
-Seating at the event is offered on a first-come, first-served basis.
-Got an idea for an Arizona Storytellers topic or want to share your story? Visit https://storytellersproject.com/tell